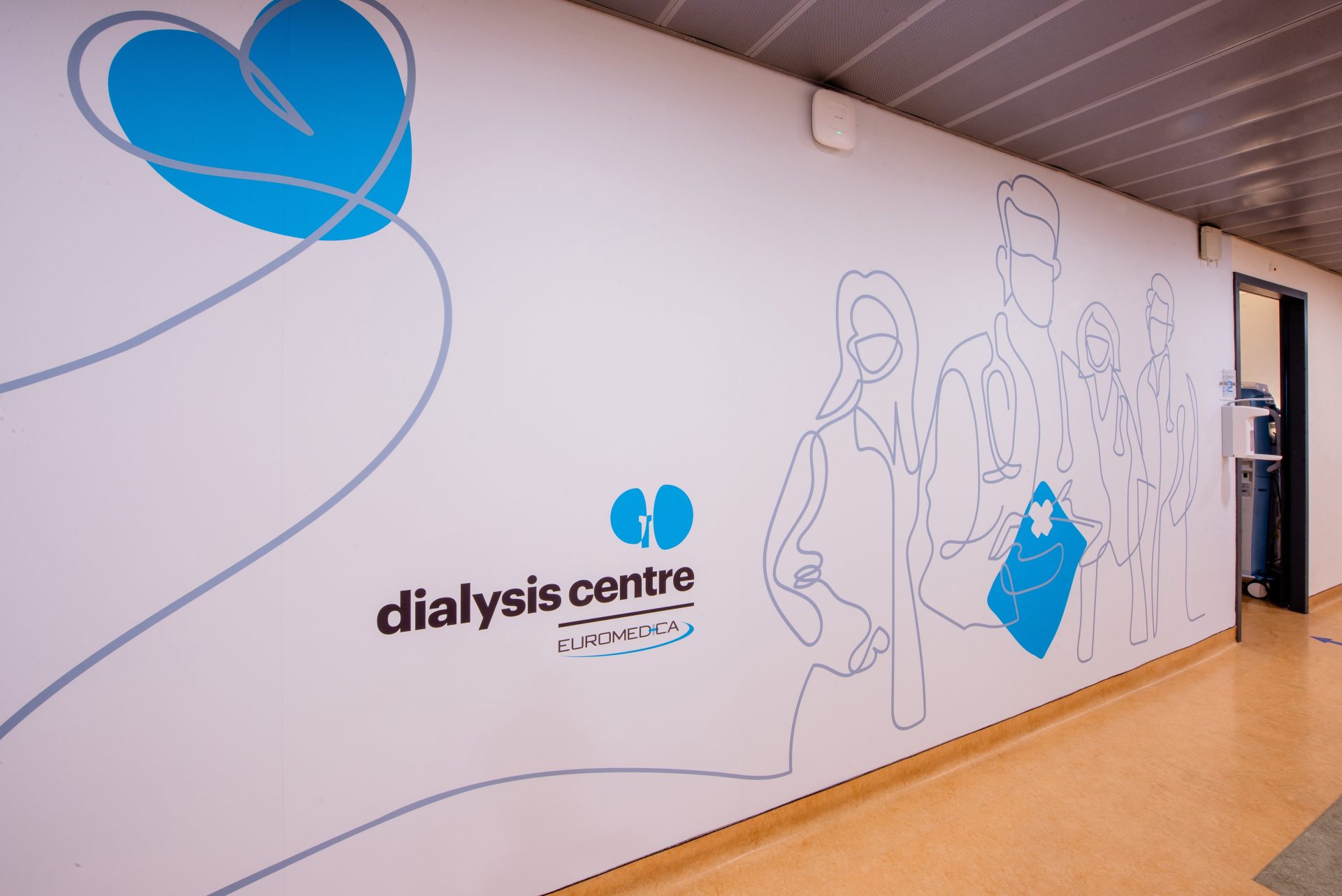 Dialysis Centre - Artificial Kidney Unit
What is dialysis?
Dialysis is the method of removing waste products from the body, such as creatinine and urea, as well as excess fluid from the blood in case of kidney damage. The kidneys are one of the most important organs in the human body. They act as 'filters' that remove unwanted substances from the body. In addition, they regulate the balance of minerals and water and are responsible for the production of important hormones. Many factors can cause kidney damage, such as diabetes, hypertension, kidney stones, chronic kidney infections, genetic diseases, as well as certain drugs and toxic substances.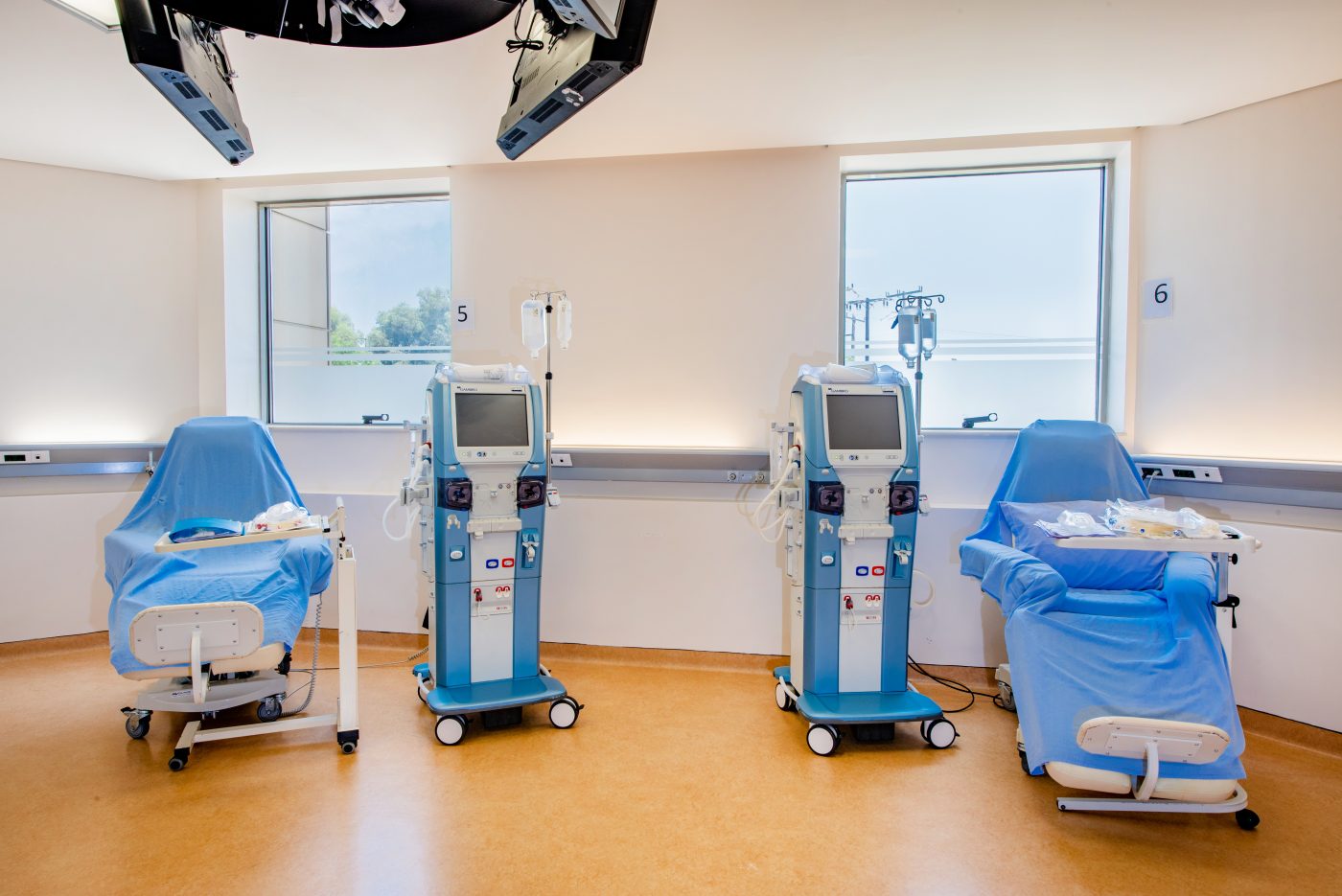 The Dialysis Centre
Dialysis Centre operates with 17 beds modern in facilities and is staffed by experienced and specialized medical personnel. The scientific team of nephrologists at the Centre undertakes the treatment of patients with the utmost care, while the qualified nursing staff is available 24 hours a day to meet the needs of patients. The Unit also has a special separate room for patients with Hepatitis B/C and HIV.
Technical equipment
The Unit is equipped with the latest generation of Baxter (Gambro) Artis Physio devices. Through specially designed functions they can provide customized, top quality dialysis services (HD, on-line HDF), while monitoring key patient parameters (e.g. blood volume, arterial/renal pressure) and storing treatment data in the patient's individual treatment record.
High standard dialysis is complemented by top quality consumables for optimal durability during treatment and is manufactured using materials that are both patient and environmentally friendly. We offer a range of state-of-the-art hemofilters manufactured by Baxter (Gambro) that meet specific requirements for various types of treatments and individual patient needs.
The water quality is protected through a modern Reverse Osmosis (RO) network, combined with special filters for cleaning the devices used and thorough system controls and monitoring. This ensures that the water used for solution production is extremely pure.
The use of special (citrate) solutions ensures high-quality, biocompatible dialysis, which contributes to the well-being of patients after the dialysis session.
Benefits for Guests
Central Location – 10-minute drive from Rhodes town
Located within the largest private clinic on the island
Multilingual staff (languages spoken include Greek, English, French)
Treatments for Hepatitis B and C patients and HIV positive patients
Wheelchair accessibility & separate entrance from the rest of the clinic
Free parking
Free Wi-Fi and satellite TV
Air conditioning
Transfer service to and from the clinic available upon request
Collaborations with local businesses, including hotels for special discounts
We accept the European Health Insurance Card (EHIC)
Your vacation plan if you need Dialysis
If you are undergoing hemodialysis, it is necessary to organize your trip in time and contact our clinic before you arrive on the island. We recommend that you consult your personal doctor prior to travelling and check if your insurance covers treatment during their trip.
For any information you, your insurance company or doctor may need, please contact us: dialysis@euromedica-rhodes.gr, int@euromedica-rhodes.gr
We would be pleased to support you in your preparation of your visit to Rhodes and make all the necessary arrangements and reservations.
Interested in our services? Please, fill in the application form